Registration is required in order to receive Email Notifications, access the Online Directory of residents, and access Restricted Documents under the OPCCOA tab. This is to protect the privacy of the community.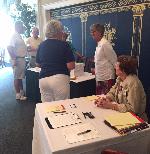 OPCC/Loch Rane Meet and Greet
Click on the picture to
view the entire album
Today's Events
Tomorrow's Events

Current Conditions:
Mostly Cloudy, 76 F
OPCC News & Events
A Message From Your Board

The recent delivery of the May issue of the Living Magazine was incomplete. Some streets were missed. If you did not receive yours, please go to the Community Building where there is a good supply in the news box. You won't want to miss this issue. It includes a wonderful article about two of our resident World War II veterans.

It's time to start planning for the Community Garage Sale. It will be held Saturday, May 16th from 7:30 am – 2:00 pm. The fee is $15.00 which will cover the cost of advertising, maps, yard signs, security. Applications are available in the current issue of Living magazine, at the Community Building or you can click here to download one. Drop the application and fee off in the mail slot at the Community Building. Checks should be made out to OPCCOA.

Neighborhood Social

Saturday, April 25th 7 – 9 pm
at the home of Don & Lorrie Krenek
663 Wyndham Ct.

Bring an hors d'oeuvres or dessert to share and a beverage of choice. RSVP to lorriekrenek@aol.com or 375-9112. These are fun, casual events and a great way to make new friends. All residents are welcome!

Tour of Orange Park Medical Center

Thursday, April 30th

CANCELLED

Interested in Writing an Article for the Newsletter?

Click Here for Tips and Deadlines

Deadline for submitting articles for the June issue is Friday April 24th. Submit articles to Marilyn Mackin at marilyn472@aol.com.

Mah Jongg

Thursdays 1-4pm

Group meets in the community center. Teachers available for new players.

Community Library

Tues w/ Randy 10am-12pm, Free Coffee & Donuts
Thursdays 2-4pm, Free Snacks & Beverages
Saturdays 11am-1pm, Free Snacks & Beverages

Stop on by, meet the librarians, check out the selection of books, chat with neighbors, grab a snack. You will be glad you did.