Registration is required in order to receive Email Notifications, access the Online Directory of residents, and access Restricted Documents under the OPCCOA tab.  This is to protect the privacy of the community.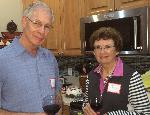 Neighborhood Social February 2016
Click on the picture to
view the entire album
Today's Events
Tomorrow's Events
OPCC News & Events
News from Your BOD

SAVE THE DATE! The OPCC/Loch Rane Community Yard Sale will be Saturday, May 14th. Click here for an application form. Applications can be placed in the mail slot at the Community Building. Applications are due by May 10th.
There have been reports of dangerous, unleashed dogs roaming the neighborhood. One resident's cat was killed. If you see an unleashed dog roaming, please call Animal Control at 269-6342. If you feel there is a threatening situation, call 911. Do not call the Gate as they are not equipped to address the situation.
Complaints were made at the BOD meeting about golf carts speeding and ignoring stop signs. Golfers, please remember that you have to obey the laws just as automobile drivers are supposed to.

Neighborhood Social

Saturday, Apr. 30th at 7 pm
at the home of Matt McCary and David Cochennic
at 488 Sugar Grove Place

Bring a beverage of choice, glasses and an hors d'oeuvres or dessert to share. Come enjoy being with your friends and neighbors. There is always great conversation and a wonderful selection of munchies. RSVP to Lorrie Krenek at 375-9112 or lorriekrenek@aol.com.

Interested in Writing an Article for the Newsletter?

Click Here for Tips and Deadlines

Articles due to Marilyn Mackin at marilyn472@aol.com.

Bunko

Thursday, April 28th from 6:45 – 9 pm
at the Community Building

ALL residents are welcome!

Mah Jongg

Thursdays 1-4pm
in the Community Building

We are always looking for new participants and are willing to teach you the game.

Community Library

Tues w/ Randy 10am-12pm, Free Coffee & Donuts
Thursdays 2-4pm, Free Snacks & Beverages
Saturdays 11am-1pm, Free Snacks & Beverages

Stop on by, meet the librarians, check out the selection of books, chat with neighbors, grab a snack. You'll be glad you did!